One of the discombobulating factors in public discourse in recent years is the seeming absence of any reason, logic or even self-interest behind the surface cacophony. Politics as practiced until recently was based on self-serving lies. We knew politicians lied. The important thing was why they lied. The main question to ask was what outcome was the lie in service of. I used to know why politicians were lying. But not anymore. Some people believe they can discern a cunning masterplan behind the politics of the last few years. It looks to me more like chaos (which manifests as unconscious archetypal machinations).
So, when a story comes along that features some good old-fashioned naked self-interest masquerading as moral rectitude, it's almost a relief. One such story caught my eye as it's been doing the rounds in Australian media recently. The story is that we're about to introduce a 4-day work week. This will be, according to a recent media article penned by a professor at UTS Sydney, a "great leap forward". I can't figure out if this is an ironic or a deliberate reference to Chairman Mao's disastrous reform program.
Fear not, though, the 4-day work week has the full backing of "science". A team of "experts" at several universities has been working through the details over the last several years. The headline of the article notes that the trials have been labelled "a resounding success". Of course, the exact same headline was written about the corona vaccines. But I'm sure the experts will get this one right. Right?
The experts in question produced a "global" report that backs the plan. Great. So, they must have tried it out in numerous countries around the world, right?
Actually, no. Only 6 countries were trialled.
But the 6 countries were a representative sample of all nations, weren't they?
Actually, no. The 6 countries who took part were all the Anglo countries: Australia, Canada, Ireland, New Zealand, the United Kingdom and the United States.
Ok. But they must have taken a representative sample of occupations to prove the idea is capable of being rolled out to all jobs?
Nah. Only professional office jobs were included in the study.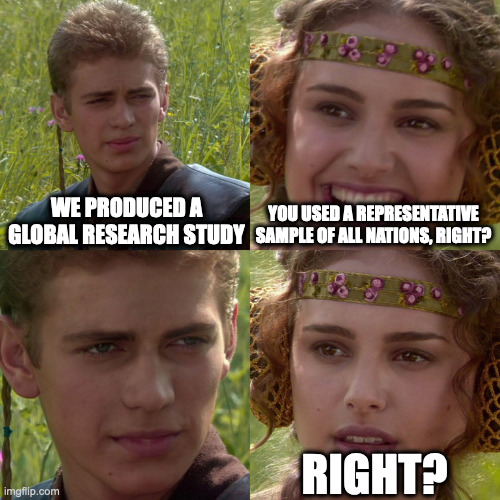 If this sounds like less than rigorous research, consider that the basic premise of the idea is that productivity can remain the same when employees work 20% less. This is an idea which stands common sense, logic and history on its head. Anybody defending it should be expected to go out of their way to prove its veracity and yet here we have a study with holes big enough to drive a truck through.
We see here a repeat of the corona vaccine pattern. Massive claims were made for the vaccine that had no basis in science, logic or history. In a functioning society, the emphasis should be on people making extraordinary claims to provide extraordinary evidence to back them. Clearly we don't live in that kind of society.
Suffice to say that this research is, pardon my French, complete bullshit. But at least we can see whose interest the bullshit serves. The salaried professional class here in Australia will get to trial the new scheme. These brave innovators, who have only recently had to go through the trauma of returning to the office after working from their couches for the last three years, will lead the way into the new golden epoch.
Of course, it's only in office jobs that it's possible to pretend that taking a day off a week can lead to productivity improvements. Tell the foreman in a factory or the manager in a supermarket that you can increase productivity by having everybody take Fridays off and you'll be laughed out of the building. Common sense is not a strong point of our modern "elites".
The professor's article attempts to link the 4-day work week concept with the historical industrial relations disputes which led to the original 40-hour work week. This is yet another obvious error of reasoning. But the difference between the two examples is revealing of a larger pattern that differentiates society now from society back then.
The 40-hour work week was born out of a grassroots movement which saw workers joining together into unions and using strikes and other industrial action to force employers and governments to grant not just a 40-hour work week but other things we now take for granted such as holiday and sick pay. All of this was achieved over a period of decades which allowed society to slowly adapt and correct course as necessary. It was iterative and based in the "real world".
Since the comparison with the corona vaccines is relevant here, we should also note that the history of vaccines was also iterative and based in the real world. Most people know the story of Edward Jenner and the smallpox inoculation which arose out of real world observation, no high-tech laboratories required. Similarly, Pasteur's discovery of the attenuated vaccine took many years and ultimately resulted from a laboratory error. Iteration. Observation. Trial and Error. These are the primary factors involved both in early industrial action and vaccine development.
By contrast, the 4-day work week and the corona vaccines were cooked up by academics in ivory towers. The ways things work these days is that such ideas are fed into the propaganda channels of the media. To compete in those channels, the ideas must be accompanied by grand announcements about the wonderful changes they will bring about. You've got to sex it up if you want to play in the world of public relations. Completely absent from this dynamic are the aforementioned concepts of iteration, observation, trial and error and that pesky thing called "the real world".
All these new ideas sound nice as long as you don't think about them for more than 5 seconds. For example, it may very well be that respiratory viruses, and viruses in general, perform a necessary function that we don't know about. In the unlikely event that we can come up with a 100% "safe and effective" vaccine that eliminates respiratory viruses, this may cause a set of unforeseeable side effects. The treatment may turn out to be worse than the disease as so often happens in modern medicine.
What about the 4-day work week? Sounds nice. Except that we know that unemployment is linked with all kinds of negative outcomes including depression, anxiety, drug and alcohol abuse etc. What if what people really need is meaning. For better or worse, paid employment is one of the main ways we find meaning in our culture. Cutting work hours is not going to help people find meaning, at least, not any meaning that has a larger societal aspect. The whole point of work is that it is communal and exoteric. It is your way of contributing to society. To the extent that humans are social animals that need to feel they contribute to society, reducing work will reduce the meaning people find in their lives.
And this brings us to the crux of the problem that I think really underlies the 4-day work week concept: the lack of meaning in modern work. The 4-day work week denotes a crisis of confidence that is taking place among exactly the demographic that the study focused on: the professionals in Western, and especially Anglo, countries.
This is not a new development. In fact we saw it appear early on in corona with the use of the deeply weird phrase "the new normal". Corona might have been the first pandemic in history where, instead of fearing for their lives or grieving over lost loved ones, people actually saw an opportunity for a brighter future. But, of course, the people who were talking of the new normal were the very same elites who are now hoping to get a 4-day work week.
Just as calling for a new normal during a "pandemic" is delusional and self-centred, so is wishing for a 4-day work week in the current socio-economic conditions. Right now in Australia we have historically low unemployment and historically high inflation. The rental vacancy rate is the lowest on record while Australia is currently importing the highest number of immigrants on record. Where are all these people going to live? Not in new homes if the recent announcement of the bankruptcy of a new home builder is any indication. This comes on the back of several state bailouts of builders last year. The bankruptcy was apparently caused by labour shortages, inflation and supply chain problems.
Meanwhile, the Victorian Premier jetted off on a trip to China that apparently had something to do with higher education. The Chinese government recently dropped a ban on students travelling overseas to study which means Australia could see tens of thousands of them showing up soon. Presumably, the Premier is trying to get them to come back to Melbourne.
So, we are trying import workers and students to make up for the employment problem, except we don't have anywhere to house them. Meanwhile, the money they bring will only add to inflation. Cool plan, bro.
This is all the attempted continuation of what I call the immigration-education-real estate axis of evil that has been the cornerstone of Australian economic policy for a good two decades. This policy was already causing problems before corona and those problems are only becoming more acute. The one thing the plan has been good for is to prop up real estate values for investors. And which class is doing the investing? You guessed it – the salary class.
In the middle of all these issues, the same salary class wants to work four days a week. That's what's called in the vernacular taking the piss. If the studies are in fact correct and salaried professionals can be more productive by working less, maybe those same professionals could do society a favour and take a 4-day work week in exchange for 4 days of wages. The productivity boost would sure help inflation. They could then go one step further and use that extra free day to work in one of the industries that is crying out for employees at the moment. Maybe they could help build new houses to ease the shortage.
Of course, the productivity gains of the 4-day work week are illusory because in order to increase productivity you must create something of value in the first place. I talked in the last post about the ex-Prime Minister of Australia, Paul Keating, who led the neoliberal economic reforms back in the 80s and 90s. Keating admitted that those reforms hollowed out the manufacturing sector in Australia but, he claimed, those manufacturing jobs were replaced by "service jobs" which paid more and which were more "skilled" because they apparently required university degrees to perform. (The same universities that produce garbage research about 4-day work weeks?)
If we rename Keating's "service job" to David Graeber's "bullshit job", we start to see the problem. I went into detail about bullshit jobs in one of my coronapocalypse posts, so I won't repeat myself here. The key point to understand is that this wasn't just some pejorative term that Graeber invented because he didn't like service jobs. He gave it that title because the people who do those jobs believe that the jobs have no meaning. And if your job has no meaning to you, it follows quite naturally that you will want to do less of it. Doing less of it won't solve the problem but it will temporarily relieve some of the emotional issues that come from the feeling of meaninglessness.
Much of what is going on with dumb ideas like the 4-day work week and the new normal and the other madness we see in modern society stems from the fact that our "elites" are in an existential crisis and, rather than face the crisis head on, they have sublimated it. This crisis of meaning began with the collapse of the USSR. Our elites were suddenly without a viable external enemy that could keep their worst excesses in check. Maanwhile, the neoliberal reforms shipped all the real jobs overseas leaving western elites with mostly meaningless jobs. This has led to a subsequent breakdown of logic, reason and common sense because we created a society where those things are not required.
All that is about to change, of course. The corona event has precipitated a rapid change in the geopolitical situation. The rest of the world isn't buying our bullshit anymore. We're going have to figure out how to start producing things that matter again.