The other day I had what seems like a fairly obvious idea in hindsight: an inversion of the famous Maslow Hierarchy of Needs. A quick internet search reveals that this idea has occurred to others although I didn't find a version that fits the way I was thinking about it.
My idea was that the Maslow hierarchy needed a Jungian shadow or inverted segment. I was pondering this in relation to Kierkegaard's idea that "the door to happiness opens outward". That is, you cannot "push" your way to happiness. You cannot read Maslow's hierarchy and try to follow the steps. (Disclaimer: I haven't actually read Maslow, so I may be doing his ideas an injustice here).
Anyway, here is my version of the Maslow hierarchy with a Jungian shadow below mirroring the pyramid that everybody will be familiar with. It seemed fitting to draw it in doomy grey.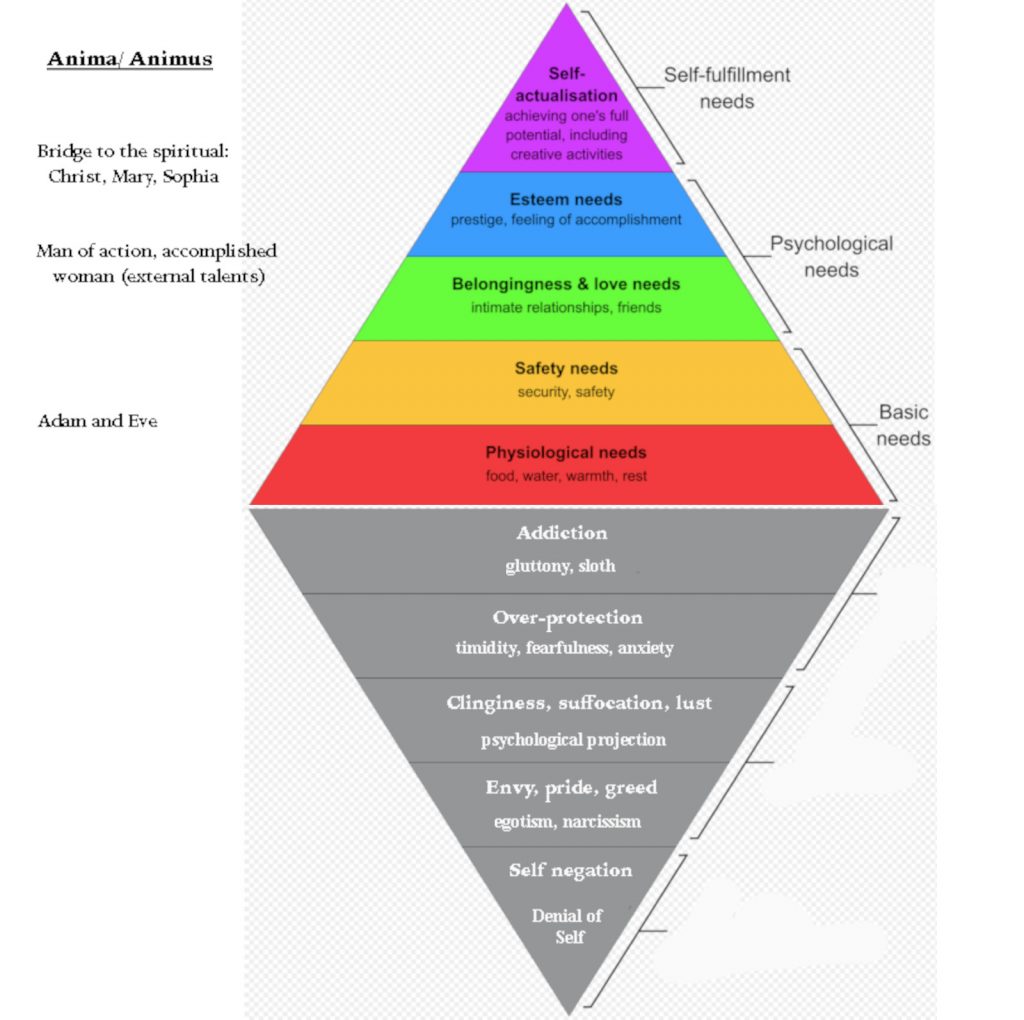 The idea is that the inverted segments below the mid-line are the "shadow" side of the positive segments that we all know. Thus, the shadow of Physiological Needs is Addiction. The shadow of Safety Needs is Fear. The shadow of the need for Belonging and Love is Clinginess and the projection of your own insecurities onto the other person. The shadow form of Esteem is Egotism and Narcissism. Finally, the shadow form of Self-actualisation is the denial of Self. Ultimately, all the shadow forms are an attachment to the ego which prevents the transcendence to the Jungian Self.
I also mapped Jung's anima/animus progression on the left as this matches to Maslow's concept in the sense that Jung believed one progresses through the different levels. The basic physiological needs Jung considered to be the base level anima/animus as represented archetypally by Adam and Eve. Belongingness, love and esteem maps to the second tier anima/animus as the man of action or accomplished woman. This is the person who has found a place in society where they feel they belong.
Jung had two extra tiers of anima/animus that map to the Self-Actualisation phase of Maslow and this is where things get interesting because Jung's individuation concept seems to imply that you have to first manifest the shadow forms in order to get to individuation. In other words, Maslow was missing half the story because he implies that you can "ascend" the hierarchy in a purely "positive" fashion whereas Jung believed you have to first descend down to "hell". You have to manifest the shadow before you can integrate it.
Kierkegaard had a similar idea. He would have called the "self negation" tab at the bottom of the hierarchy "despair" and he implied that one could not self-actualise without first going through despair. This fits with Jung's concept of enantiodromia. There is a sudden reversal from despair to self-actualisation/individuation but it is not something you can plan for. The door to self-actualisation/individuation must open for you, you cannot push it open.
Just as despair has many forms, so too does the positive side of the equation and thus the last two anima/animus steps to go from Maslow's esteem needs to self-actualisation. Thus, in relation to the anima, Mary is the 3rd tier and Sophia the top. Both of these would be sub-levels within Maslow's self-actualisation phase. The poet, Robert Graves, had a similar idea although he a triad of anima figures with Mary, the White Goddess and the Black Goddess as Sophia. This is probably where the correspondence with Maslow breaks down since it doesn't feel right to call these "potential".
That's why so many famous religious figures were actually successful people in earlier life but renounced their success to pursue something higher. It may very well be that you need to renounce all the other needs in order to pursue Self-Actualisation at all; hence poverty, celibacy and living away from society. Whether that renunciation is the equivalent of manifesting the shadow forms in a Jungian sense is an interesting question. I think Kierkegaard would have said one needs to be a sinner first. Avoiding sin altogether is also avoiding despair.
Both Jung and Kierkegaard believed that most people will avoid despair. Within this model, that would prevent them from attaining self-actualisation. Because we live in a time where physiological needs are taken care of, this would mean that we would expect most people to get stuck at egotism and narcissism, unwilling (or perhaps uninvited is a better word) to take the final leap into despair necessary to transcend the ego and integrate the Self. Sounds like a pretty good description of modern society to me.