The philosopher William James once referred to philosophical rationalists as "tender minded" while philosophical empiricists were "tough minded". Dealing with abstractions, as rationalists do, requires nothing more than a comfy chair, perhaps in front of the fire on a cold winter's night with a nice cup of hot brandy to warm the stomach. Dealing with facts and, more importantly, the testing of facts requires you to get off the philosopher's couch and go out into "the real world". It is in this "real world" that engineering and science do their work (although today much of science is carried out on the modern equivalent of the philosopher's armchair: a computer). The pragmatic philosophy which James espoused is a natural fit with the domains of life where you actually have to build something and test that it works.
Proving that things work takes time, energy and money and always more of these than you think it should. This should is itself an abstraction. You have a dream. You make a plan and in your plan you imagine the best case scenario, the shortest route to the goal where everything goes perfectly. That much can be done from the armchair. Turning the abstraction into reality requires dedication, focus, will power and persistence, among other attributes. Along the way, things go wrong, unexpected problems emerge, you get tired and you want to take short cuts. Sometimes you curse having ever started in the first place and you just want it to be over. That's the workaday world of engineering and science. Only the tough minded need apply.
I recall a meeting earlier in my career which was at the start of a new project. The business people were outlining the reasons for doing the project. It was a nice story full of abstractions. I asked what seemed to me to be a simple and obvious question about one of the main outcomes the project was trying to achieve: "what percentage <of some metric> would you consider success?" The project manager had no answer and it was clear from her response that she hadn't even thought about it. This is the norm in corporations. Often millions of dollars are spent on projects where nobody has even calculated the expected return on investment. Even on the one metric that you would expect businesses to care about, i.e. profit, the business plan doesn't include a specific, measurable number. This makes sense politically, of course, because if you allow something to be tested you also allow the possibility of failure and therefore the possibility of being blamed for failure. Much easier to stay in the world of abstractions where things are not testable and failure can be glossed over.
That might work for business managers and politicians but it can't work for engineering teams who are tasked with building something and need parameters to work with so that they can design and test a solution and know that it works. Let's do a lightning overview of what that process looks like using an example that is very poignant at the moment. Imagine we are the engineering team at a pharmaceutical company. We have just started a new project where management has given us the task formulated as the following abstraction: "create a vaccine that is safe and effective against coronavirus".
The first thing we need to do as engineers is break this abstraction down into testable statements. This involves asking questions like "what sort of vaccine"? "What does safe mean?" "What does effective mean?"
Let's set aside the question of what is and is not a vaccine and focus on the two other abstractions in our brief: "safe" and "effective".
"Safe" could mean any of the following:-
Causes 0 side effects or deaths
Causes some temporary side effects but no death or permanent injury
Causes some temporary side effects and some deaths and permanent injuries
But these are too vague for science and engineering. We need specific, testable parameters. For example:
Causes temporary side effects in no less than 97.56% of cases
This statement is better but it still contains the abstraction "temporary". We need to be specific about that too:
Causes side effects that last shorter than 60 days in no less than 97.56% of cases.
That's better but we still need to define what counts as a "side effect". If our vaccine caused a pain in the arm for an hour after injections but otherwise no other symptoms we wouldn't consider it "unsafe". So, we need to be more specific. We could reformulate the parameter as follows:
Causes side effects that require hospitalisation within 60 days of treatment in no less than 97.56% of cases.
This is the kind of statement that can be tested but it's just one among many testable statements that form the parameters by which the engineering team can start to design a solution and then to test that the solution works. We would need to do the same for the abstraction "effective".
Is this attention to detail hard work? Sure is. But that's just the beginning. The reason we create testable assertions is so that engineering team can design the solution and then we can test the solution to make sure it meets the criteria. In the design, implementation and testing phases, ambiguities pop up, unforeseen problems arise, new information comes to light and we need to continually refine our analysis. For example, let's say you notice that people in your study are suffering heart attack at four times the rate seen in the average population. You didn't include heart attack in your list of side effects because you had no reason to think it was relevant to this particular medication. Should you now include it? You'll probably need to go off and investigate the cause of the heart attack to try and figure out whether it can be traced to the vaccine or whether it was a statistical anomaly. What if it's not something acute like heart attack but the fact that people are reporting subjective feelings of fatigue or aches and pains. Do they count as side effects? If somebody has persistent headaches for two years, do we include this person in the statistics even if we can't find any explanation that establishes why the vaccine caused it? These are all the kinds of questions that pop up along the way in an engineering project.
These three elements – the abstraction, the testable statements that prove it and the testing that verifies the testable statements – can be thought of as a hierarchical structure where you drill down from abstractions to testable statements and then come back up from testing to the statements tested and then back up to the abstraction.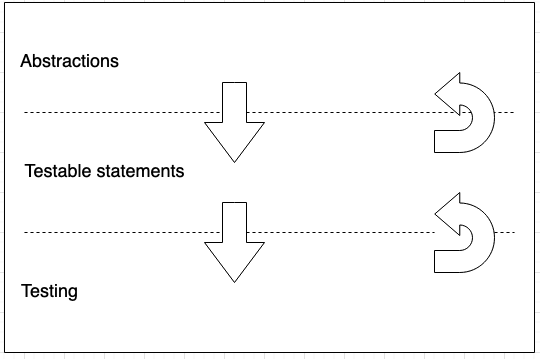 The world of abstractions is simple and comfortable. The real work begins in the realm of testable statements and testing. It's down there where it's easy to get lost, bogged down in ambiguity, confused, demoralised and weary. That's why empiricism is for the tough minded who can stay focused and know how to navigate up and down through the hierarchy.
Note that this is just the beginning of the "fun" when it comes to testing things like vaccines. Because vaccines deal with the living biological world which is always in a process of becoming, any testing is fundamentally time dependent and quickly becomes out of date. This is especially true with rapidly mutating respiratory viruses. [This is a non-trivial problem and in my opinion the cold, hard, reductionist, analytical methods of the intellect cannot adequately explain the biological world and a huge part of our problem is that we believe that they can.]
Another issue is who gets to say that 97.56% is the cutoff at which a vaccine is called "safe"? One person's "safe" is another person's "not safe". This leads to a second issue which is that, although it is valid to generalise across populations, a statistical average guarantees nothing about the safety to an individual. This is especially true with medical interventions where the number of variables to consider is astronomical. Thus, it's not actually possible to say that something is "safe" at the individual level. At the individual level there is always an element of risk and that risk cannot be known in advance. Even if a vaccine had proven 100% safe up until now, the next person who takes it could get sick or die from it. For them it wasn't "safe".
The statistical average can and should inform our decision, of course. This is the kind of personalised advice that a doctor gives before administering a medical intervention. It should always come with the caveat that statistical average are just that and there is an irreducible element of risk at the individual level. That's why it is always the patient who must assume the risk of any decision about whether to go ahead with treatment.
All this gets brushed aside when politicians intervene and demand that a vaccine is safe and effective. Politicians almost exclusively stay up in the world of abstractions for the reasons outlined earlier. In the world of abstractions, you can escape responsibility for failure; one of the key skills of any politician. Much public discourse relies on the unspoken assumption that somewhere "the experts" are doing the hard work of creating testable statements and then testing them. There is no reason, of course, why politicians couldn't just report the findings of the experts. They could say that in 97.56% of cases there are no side effects. Strangely enough, this is exactly what the West Australian Premier did recently when he made the following statement:
"So far, the science shows that people with only two doses of a Covid vaccine have only a 4 per cent protection against being infected by the Omicron variant," Mr McGowan said. "With a third dose it can provide a 64 per cent protection against infection."
The statement was unusual not just because politicians normally avoid being so specific but also because these statements are not very flattering to the stated policy of the Premier. 64% isn't a particularly impressive number. Nevertheless, it would be nice to have more such statements in public discourse because they give us something to bite into as good empiricists. Note that there is ambiguity in the Premier's statement. Is the Premier is saying 64% of the vaccinated people are protected from being infected 100% of the time or 100% of the vaccinated have a 64% chance of not being infected any given time they are exposed to the virus? This is the kind of question we would ask when constructing testable statements. It's also the kind of question a good journalist would ask so that the public can understand what is being said. Having clarified that, a good journalist should also ask the Premier to point to the evidence that proves the truth of the statement.
There was an example of this kind of reporting just recently in this unintentionally hilarious press conference from the US where a defence spokesman makes a claim about Russia which is challenged by a journalist who asks for proof. We could break the spokesman's claim down as follows:
Abstraction: Russia might commit a false flag disinformation campaign in Ukraine
Testable statement: we have information about Russia hiring people to carry out the false flag
Testing: source evidence which shows that Russia hired people
In the video, the reporter asks the defence spokesman to provide the evidence, which in this case means show us the intelligence you have that Russia hired people to do the thing you say they are going to do. The spokesman responds by saying that him making the statement at the press conference IS the evidence which, the journalist rightly points out, is not real evidence. It gets funnier from there and I recommend watching the video for yourself.
Of course, this is merely funny (unless it happens to start WW3) but almost the exact same thing was attempted with the releasing of the pharmaceutical companies' documents about the trials done on the corona vaccines. Originally it was ruled that Big Pharma could wait seventy five years before releasing their evidence, which amounts to not ever having to release it. But that was overruled and apparently the evidence is due to be released soon although still more than a year later than it should have been if you wanted doctors and the public to actually make an informed choice about the safety and efficacy of the vaccine.
Why weren't journalists (and doctors for that matter) demanding to see the evidence about the vaccines? We can come up with a host of reasons why but the truth is that they didn't and neither did most of the people who got the vaccine. The willingness to follow the abstraction without demanding evidence represents a general trend away from tough minded empiricism and towards tender minded abstractions that has been in train for some time. Empiricism takes time and resources. Both of these are lacking these days because we are going backwards economically and because the "pace of life" has sped up. Actually, this speeding up is itself a symptom of decline. We don't have time to do the job properly anymore. Journalism is a useful yardstick here because proper investigative journalism is an empirical science which takes time and therefore money to do properly. There is no longer any money for proper journalism and thus journalism simply parrots abstractions. That's all it can do. Abstractions are quick and easy and don't require any work.
With our abstractions no longer grounded in reality, our public discourse flails around wildly. It reminds me of the last quarter of Hermann Hesse's book Steppenwolf where Harry Haller enters the "magic theatre" and there follows a kaleidoscope of abstractions swirling so fast it makes one nauseous to read it (as was intended by Hesse). We've all been sucked into that magic theatre in the last two years; locked at home watching the kaleidoscope of pictures on screens. In truth, it's all just been one giant projection. One giant Rorschach test. Just like in Steppenwolf, the speeding up of the abstractions represents the culmination of a process that's been building for a while. That process is a mental breakdown. That's what Haller goes through in the book and what we are going through right now at the societal level.
It's possible this mental breakdown is the end of a cycle. That's what Hesse implies in Steppenwolf. It takes the nausea of abstractions spinning out of control to throw us out of the comfortable world of "rationalism" and back to reality. But the abstractions that are spinning out of control now are not just limited to the ones specific to a supposed new respiratory virus. Almost everything seems to be up for grabs including things like "democracy" and "science" both of which are fundamental to our understanding of what western society is. Viewed "logically" or "rationally", it should never had gotten to this point. There were so many off ramps along the way that could have been taken. Viewed psychologically, however, it makes sense. Like wood on the floor of a forest waiting to catch fire, we had built up far too many dead abstractions not tied back to reality. They need to get burned away for something new to grow. Like Harry Haller, we are hitting rock bottom and it's only once we have hit rock bottom that we can start the process of getting ready to face the real world again.