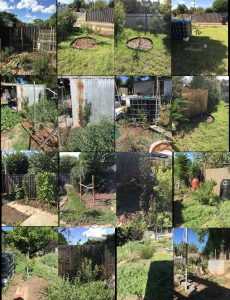 The local natives have grown very well during this period.  The only native I have had trouble with is the Golden Wattle where I managed to kill a couple but the third has grown very strongly.  I suspect I may have overwatered the two that died.
The apples and pears have unanimously been the best growers of the fruit trees.  The grapes and olives have also done well as did the passionfruit and hop vines.  The macadamias seem to be doing quite well which is nice.  However, the avocados have been the main disappointment.  Neither has shown much growth.  Both continue to grow new leaves only to shed them before they grow to full size.  I'll need to rethink my strategy with these this year.
El Nino was in full effect this year with a relatively hot and dry spring and summer.  Considering this, I've been happy with progress.  Now that autumn is upon us and the really hot weather has passed, I'll be looking to add some more colour and decoration to the garden as well as continuing to trial companion plants.