The term used in Edible Forest Gardens to describe the creation of a brand new garden from scratch is Instant Succession.  I guess one of the features of this is that the whole garden undergoes a period of rapid change in the first several years.  That will certainly be true of my yard where the vast majority of the plants are new and will grow to maturity over time.
I'll be keeping track of progress by photographing the guilds every three months or so (probably sticking to the solstice/equinox just for ease of memory).  The aim of this is track plant growth and also to see how individual guilds are performing eg. do the plants seem to be working together, what problems have been encountered etc.
For this first update, I have several guilds fully planted and several more under construction.  Here's a photo covering some of the guilds with a description of all the guilds below.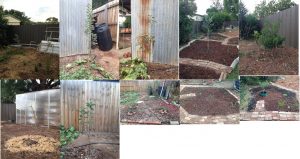 Lisbon Lemon Guild
I had originally planted this lemon on the west side of the block but later realised that spot was just what I needed for an avocado. So, I transplanted the lemon a couple of weeks ago.  Seems to be doing ok so far. I've surrounded it mainly with Running Postman which is a nitrogen fixer and also a food source for native birds. There's a Rounded Noon Flower in the top left for some variety and a Gold Dust Wattle in the bottom right which should attract insects and also act as a windbreak.
Hojiblanca Olive Guild
As stated in a previous post, the purpose of the olive tree in this location (apart from getting olives!) was as a windbreak to give cover to the macadamias behind. I've got another Gold Dust Wattle in the middle right hand side of the picture to help with that. The groundcover here is Bidgee Widgee, a local native that's good for attracting insects (and thereafter birds). The other plants are small local native shrubs chosen more or less randomly.
Pinkalicious Macadamia Guild
The Pinkalicious Macadamia is a semi-dwarf variety which should theoretically reach about 4 or 5 metres high when fully grown.  I've positioned it where it will get full sun and it should have plenty of shelter from the wind once the garden has grown up.  In the bottom left of the photo is some more Bidgee Widgee and also several local native Yam Daisy plants which are edible tubers.  To the left and behind the macadamia are some Lomandra Longifolia which are also edible and can be used for basket weaving.  There's also a couple of Native Raspberry and Mints in there to attract birds plus a few other local native small shrubs chosen more or less at random.
A4 Macadamia Guild
The A4 Macadamia is a full size tree that could get up to 10 metres high at maturity.  It seemed fitting to give this centre stage in the garden given my love of macadamias and also because it will need full sun to do well in the Werribee climate.  This guild turned out quite large.  In the bottom left is a Chilean Guava that I got from Digger's.  It's a small shrub with edible fruit.  In the top right is a Goji Berry which was a random purchase. I've never actually tried Goji Berries!  The rest are all native and local native.  In the centre bottom is an Austral-Tobacco plant.  There's several Running Postman and Inland Pigface (a succulent which is almost entirely edible but which is prized for the flower which apparently tastes something like raspberry).   There's a few local native saltbushes and a Correa Alba which should all attract local birds and insects.  At the back are some Common Tussock Grass.
Pineapple Guava Guild
In hindsight, I probably would have preferred a dwarf apple in this spot, but Pineapple Guava are damn tasty so I'm not going to change it now.  There's several more Inland Pigface in this guild.  Off to the right of the picture are about 10 Chocolate Lilies just to add some colour. The flower also has a beautiful chocolatey scent (hence the name). There's a local native Hop bush at the back which I look forward to incorporating into my homebrewing.  Other plants are local native small shrubs to attract local fauna.
Julienne Pear Guild
The Julienne Pear will get up to about 7 metres tall at maturity. I had thought about an avocado in this space but it does tend to get a little less than full sun so decided against that.  In the front is a Lemon Verbenna which has grown vigorously and whose leaves make a beautiful tea.  To the left of that is an Agastache which adds some nice colour.  In the bottom right is a Lavender.  There's a couple of Acacias and Banksias in there, several more Running Postmans and Inland Pigfaces and a random Raspberry that I picked up over to the right. (Note: the bricks here are to stop birds digging at the roots of the plants. I'm not entirely sure why they decided to go for these plants.  Fortunately they haven't tried the same trick with the new plants elsewhere in the garden).
Those are the guilds completed to this point.  The following are the major trees that are in but whose guilds haven't been finished.
Packham's Triumph Pear
The Packham's Triumph and Julienne should pollinate each other.  I was originally going to espalier this but then thought it would be good to let it grow to full size at the back of the yard where it should help to provide some summer shade but also allow sun through to the greenhouse in winter time.
Pink Lady Apple
I planted the apple in December which probably wasn't the greatest time.  Luckily we had a very mild summer. After a shaky start, the Pink Lady has done well.  I aim to let this grow to full size.
Crimson Crisp Apple
The Crimson Crisp has done the best of the three apples I've planted so far.  Again, I'll aim to let this grow to full size.
Dwarf Gala Apple
The Dwarf Gala did have a hard time at the start but came through summer ok.  I'll espalier this one along with several other apples that I'll plant as bare root stock in winter.  You might be thinking – that's a hell of a lot of apples and pears – and you're right.  Fear not, I aim to put them to good use in the making of some (hopefully) delicious ciders!
Bacon Avocado
The avocados and macadamias are more marginal in the southern climate so I've placed them in the yard to give them the most favourable conditions. For some reason, anything I've planted in this area of the garden has grown beautifully (you can still see the pumpkins that almost ready to harvest).  I guess that is because it is an area sheltered from the wind which gets morning sun and later afternoon shade.  In theory, this is ideal for the avocado so fingers crossed that it grows up big and strong.
Hass Avocado
I've located the Hass underneath the giant peppercorn tree at the back of the yard. It's got shelter from southerly and westerly winds and the peppercorn also provides afternoon shade in mid summer as well as free mulch from falling leaves and small fruits.  The Hass and Bacon cultivars fruit at opposite times of the year so I can theoretically get fruit most of the year which would be excellent given that I eat avocado pretty much every day.
Nectarine
This was a random find that I planted as bare root stock last winter. As such, I can't remember its name.  It's done quite nicely indeed over spring and summer.  Looking forward to some very tasty nectarines in a couple of years!
Cavendish Banana
Another little experiment here.  Don't expect great yields from a banana this far south, but who knows?  In this corner, the plant has good wind protection and plenty of sunshine.  Unlike the other trees, I can, in theory, be getting fruit from this next summer.
Verdale Olive Trees
I love olives, hence I went for three trees which might have been a little excessive in hindsight.  Anyway, the theme for this area is mini-Mediterranean Garden.  I've got rosemary, sage, lavender, thyme and chives around the olives which should take care of my herb needs in the kitchen.  In this position on the east of the property, the olives get full sun all year.
Golden Wattle
It's been my goal from the start to create a garden that was also attractive to local fauna. I've tried to achieve that mostly by planting local native plants in the shrub and groundcover layers, however, birds in particular are mainly drawn to trees.  Thus, I've kept space for two local native trees which border on the area i've set aside for a small pond (more on that in later posts).  In picture is a Golden Wattle, which also happens to be Australia's floral emblem.  It's a small but very attractive tree that will also add some nice colour to the garden.
Wooly Tea Tree
With the addition of the pond, I'm hoping to attract frogs to the garden and frogs like a dense habitat with gives them protection from predators.  The Wooly Tea Tree will form the southern border of the pond.  It's a nice dense, small tree that should also attract food for the frogs in the way of insects.
So, that's all for an epic post!  Luckily, I'm almost done with the tree planting.  I've got apples, almonds and grapes coming as bare root stock in winter and that will be all.  Until then, the next task for the garden is the pond, including a small retaining wall.  More on that in later posts.