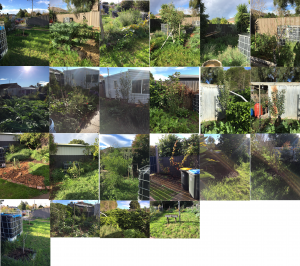 Did some re-work to the pineapple guava guild after finishing the renovations to the back of the house.  This involved removing a couple of saltbushes which seemed to give the guava more space to move and it grew a bit over autumn.
The local natives definitely like the autumn period once the weather has cooled.  Comparing this photo against summer you can see very strong growth. I was having to prune them back to keep them off pathways.
Other than that, business as usual.  The macadamia had it's regular autumn growth spurt.  The lilly pillies also grew strongly during this time.  And the grape on the front fence will provide some beautiful autumn colour as its leaves turn a deep red before shedding.