One of the strange aspects of the critique of the Necessity of intellect made by both the existentialists and other scholars like Spengler is that it didn't seem to occur to them that there was another way to use the intellect, one which is not reductionist but exploratory.
Take one example. 2 + 2 = 4 is often cited as the kind of iron-law of Necessity which seems to exclude all possibility. And, yet, there is a hidden assumption in the statement. 2 + 2 = 4 in Base 10. If you're counting in Base 3, 2 + 2 cannot equal 4 because there is no 4. What seems like Necessity is not necessarily so.
In this post I'd like to demonstrate an exploratory use of intellect based on the idea of finding hidden assumptions in statements. When you use intellect in an exploratory fashion, there are no right or wrong answers and, as a result, there is no necessary "payoff". There is no guarantee that you will discover anything interesting and that it will be "worth your while" to do the exercise.
This is one reason why our education system does not encourage the exploratory use of intellect. Rather, we demand to separate right from wrong and we want education to "pay off" by producing people who can produce right answers. We then put those people in positions of power so they can produce "right" outcomes. At no point do you get rewarded for asking "right" questions. But asking questions is almost the entirety of exploratory intellect.
I don't have a catchy name for this exercise so let's just call it the Hidden Assumption Exercise. You take a statement and try to unpack all the hidden assumptions in it, just as there is a hidden assumption in the statement 2 + 2 = 4.
Let's use a really obvious statement to demonstrate the exercise: Water boils at 100 degrees.
The Hidden Assumption Exercise tends to be quite personalised by nature. For the statement water boils at 100 degrees, your initial understanding will depend on how much science you remember from school or if you work in an area that requires more advanced knowledge. Nevertheless, even for people with a deeper understanding, the exercise should yield some interesting results as it's about forcing yourself to ask questions even when you think you know the answer.
Note that I only ever did high school physics and chemistry and I've probably forgotten a large share of what I learned, so my approach to this particular statement will reflect that level of understanding. I'd be interested to hear what those with more advanced knowledge think of the discussion below.
The way I do the Hidden Assumption exercise is to begin by separating the statement into parts. In this case we have "water", "boils", "at 100 degrees". Using each part as a point of focus, you then just ask a heap of questions about it. No question is wrong or silly. In fact, asking really basic questions like a child would ask is one of the best ways to go about it.
It's usually a good idea to give a preliminary answer to each question as this can lead to further questions. If you're doing it well, answers will lead to new questions which will lead to new answers about old questions and you create a kind of web of understanding which you can then give more structure to later.
Water
Let's start with "water". Here's a list of questions that occurred to me:
We can see that most of these questions centre around trying to define precisely what is and is not counted as water. If we were going to empirically test the statement "water boils at 100 degrees" and we wanted our results to be reproducible, we would need to be very specific about such questions.
Boils
Let's move on now to the second word "boils", which is where most of the interesting discussion lies.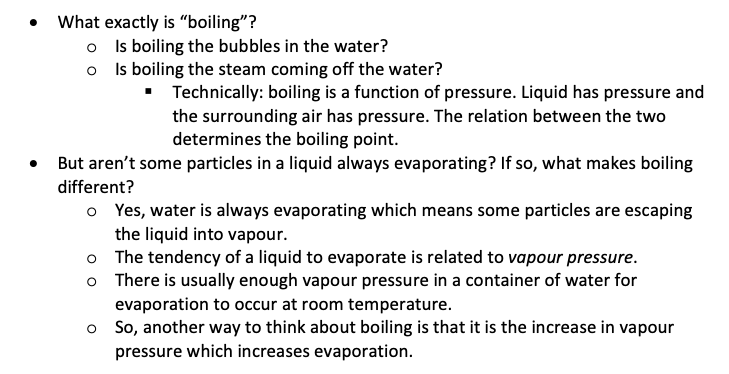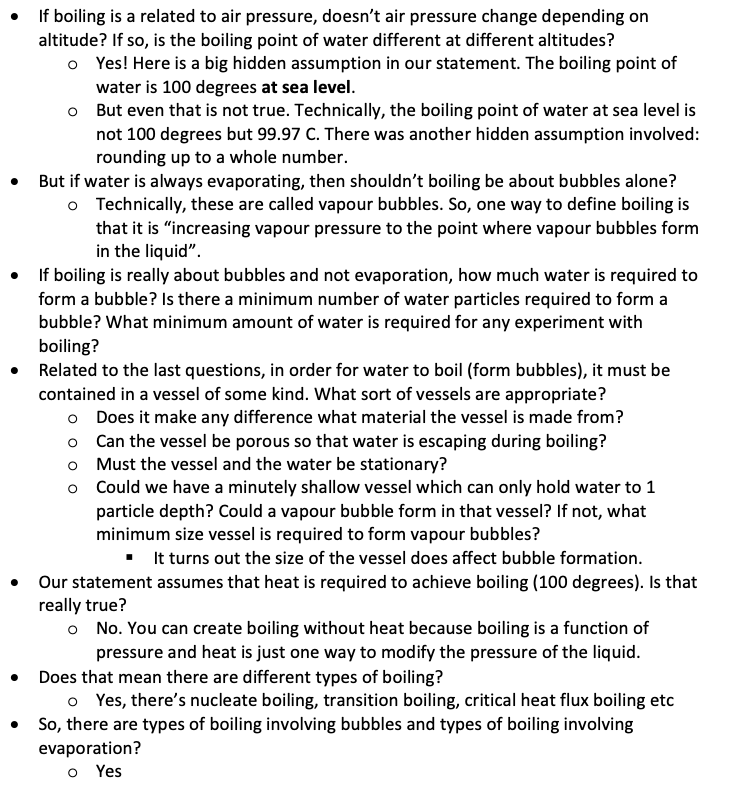 We can see from this series of questions that the word "boils" is a generalisation and we need to be specific about what type of boiling we are talking about. The hidden assumption is that we are talking about nucleate boiling. But even then, in most empirical situations, water will not nucleate boil at 100 degrees, even at sea level!
Furthermore, the temperature is only one variable that may affect boiling. General atmospheric pressure will play a role. But localised pressure gradients determine the formation of bubbles. Here is another important hidden assumption and this is something new that I learned doing the exercise. It turns out that the vessel used makes a difference because a perfectly homogenous vessel inhibits the formation of bubbles and leads to a phenomenon known as superheating. This means there is another variable at play called "surface tension".
Note also that we can see bubbles forming in heated water before boiling occurs. So, boiling is really about the movement of bubbles which will rise to the surface of the liquid and release into gas. Boiling itself seems to be a continuous process rather than a discrete state change. The more I think about it, the less clear it is how we can determine the exact moment when boiling starts and stops. That leads nicely to the next set of questions.
at 100 degrees
Let's now turn to the final chunk of our original statement "at 100 degrees".
(Note: temperature is one of those concepts we take for granted but when you start to dig in to what it actually is, there is a deep mystery at the centre of it. I'll leave out the more philosophical questions here.)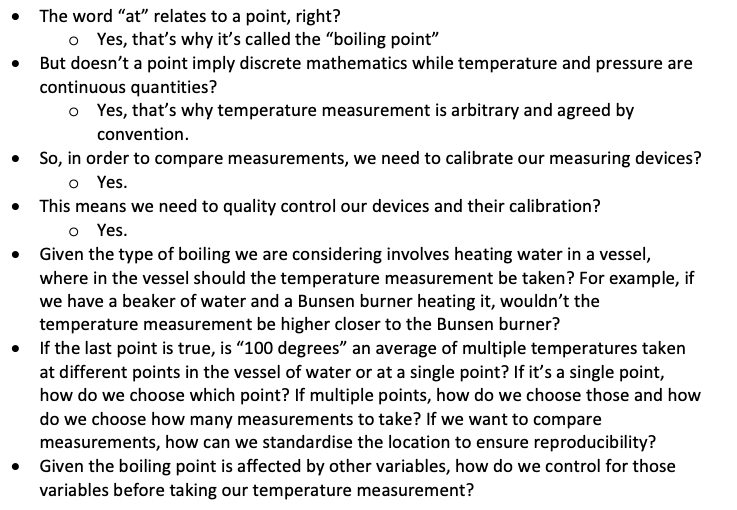 Many more questions could be asked. In such exploratory exercises you usually call it quits when you get sick of it or when you run out of time. Nevertheless, we can see from the discussion above that there is far more complexity involved in boiling water than most people would imagine. Importantly, we have found several hidden assumptions that we can now append to the initial statement to make it more accurate.
Instead of "water boils at 100 degrees", we should say "water of a conventionally-determined purity nucleate boils at 99.97 degrees at sea level in a vessel of conventionally-determined depth and size which has surface impurities so that superheating does not occur".
What all this shows is that there is a wealth of complexity beneath the surface of a simple, everyday statement like "water boils at 100 degrees". An exploratory use of intellect, mostly just asking lots of questions, opens up the complexity.
The world does not generally reward us for using exploratory intellect. A big part of the reason is that many things in life are decided by convention or agreement and by asking questions you implicitly challenge the agreement. Many things in science are the way they are simply because we agreed to standardise around some value. We could just as easily have standardised around a different value. The value itself is not important, it's the agreement that is important. But "agreement" very quickly turns into authority and authority into Necessity. That's one reason why science becomes Necessity.
We live in an age where it has never been easier to very quickly explore the complexity of any given domain. The internet allows us to form an overview of the issues once we have learned how to ask the right questions. Nevertheless, much of the internet is filled with vitriol and anger. Why? This brings us back to Kierkegaard's assertion about Necessity – it implies resignation, fear and coercion.
For most people, the exploratory use of intellect is seen as a waste of time and energy. There is a physiological truth to this. Exploratory intellect requires energy just like physical exercise requires it. If you're using most of your energy to earn a living, it stands to reason that you don't want to engage exploratory intellect at the end of the day just like you don't want to run 5 kilometres if you've just spent 12 hours working down a coal mine. The doctrine of Necessity has a basis in energy conservation.
However, we live in a time where most people in western nations have a surplus of time and energy. That's why people can spend so much time on social media posting vitriol. So, perhaps there's something else going on.
This is where Kierkegaard's existential explanation may provide an answer. Exploratory intellect opens towards infinity but infinity and nothingness are two sides of the same coin. That's exactly what the anonymous author of The Cloud of Unknowing claimed. Nothingness and infinity both seem to lead to disintegration. In between nothing and infinity is the finite. The finite wants certainty. Reductionist intellect gives us the appearance of certainty. Exploratory intellect, with all its annoying questions, does not.
All posts in this series:
Christian Existentialism Part 1: The Confrontation with Nothingness
Christian Existentialism Part 2: The Worship of Idols
Christian Existentialism Part 3: Necessity vs Faith
Christian Existentialism Part 4: The Boiling Point of Water
Christian Existentialism Part 5: From Luther to Feynman
Christian Existentialism Part 6: The Rise of the Irrational